Marie Landry has combined all three books in her Angel Island companion series - Waiting for the Storm, After the Storm, and Take Them by Storm - into a box set. For this week only, you can get the set for just $2.99, which is all three books for the price of one.
The box set also includes an exclusive sneak peek at a chapter of Marie's upcoming New Adult novel, Something in the Air.
Something in the Air
.
Three girls exploring sisterhood and friendship, finding love, and discovering their place in the world.

After the death of her mother, the last thing seventeen-year-old Charlotte O'Dell wants to do is spend the summer on Angel Island with her family. Her younger sister hates her, and her dad is in his own little world. It's a recipe for a disastrous summer on the island, until Ezra Rhodes walks into her life.

The boy next door makes Charlotte forget her almost paralyzing fear of really living her life. Stunted from taking care of her mother in her last months, Charlotte is drowning. With Ezra, she feels something again, and as he repairs her family's summer home, she dares to think he might actually be fixing her, too. Ezra challenges Charlotte to leave her comfort zone, and as their friendship slowly blossoms into more, Charlotte begins to come alive again.

But Ezra has secrets...secrets he isn't sharing with Charlotte. Despite her new-found happiness in Ezra's arms, Charlotte can't help but feel there's a storm on the horizon. And she isn't sure if she and Ezra can weather it unscathed.


For most people, starting senior year at a new high school would be a nightmare, but for Ella O'Dell it's the new beginning she desperately needs. Two months after her mother's death, she's ready to leave behind the rebellious, unhappy person she became when she found out her mom was dying.

When Ella meets River Maracle and Sadie Fitzgerald, she begins to learn it's okay to be herself, even if that means being different. River and Sadie aren't ashamed of their misfit status—River grew up on a reserve, and his mother is the school counselor; Sadie stands out with her funky homemade clothes, and is a master at ignoring the whispered rumors that have plagued her since the beginning of high school.

Ella finds a kindred spirit in Sadie, and something more in River. After almost a year of pretending to be someone she's not, she finally embraces life and allows herself to have fun without constant guilt. But despite her budding happiness, something is off with her new life. She doesn't want to dwell on the past, but Angel Island is a small place, and she soon realizes her demons are harder to outrun than she thought…

Sadie Fitzgerald has always been different, and not just because she makes her own clothes and would rather stay home watching Doctor Who than party with kids her age. When it's time to leave Angel Island for college, Sadie is eager to put her old life behind her. Small-minded people and rumors have plagued her for years, but with the love of her adoptive family, the O'Dells, Sadie has learned to embrace who she is. Now she's not afraid to admit the rumors about her are true: she's gay.

For the first time in her life, Sadie feels free to be herself. She dives into college life and begins volunteering at the local LGBT center, where she discovers her small-town upbringing left holes in her education about life outside Angel Island.

The world is a bigger and more accepting place than Sadie ever imagined. She's finally found where she belongs, but with the reappearance of someone from her past, an unexpected new friendship, and a chance at love, Sadie soon realizes she still has a lot to learn about life, friendship, and love.
Buy The Complete Angel Island Series now
Join Marie on
her blog
this week for
5 Days of Angel Island
, where she'll be sharing fun facts, pictures of the places and things that inspired the series, teasers, and more!
---
Marie kindly took some time out to answer some questions for me. After the Q&A you will find the giveaway that Marie is hosting.
First of all I want to say thank you for taking time out to answer my questions, and secondly, congratulations on your upcoming release,
Something in the Air
.
1. This is your eighth publication, including your short story, what are your thoughts and feelings about this release. Are you nervous, worried, excited?
First, thanks so much for having me on Much Loved Books, Michelle! It's a pleasure to be here. As for my thoughts on my upcoming release, I always feel a mixture of nervousness and excitement before a release. I'm excited for Rose and Declan's story to be out in the world. I hope people will like it, but realistically I know not everyone will, so that's part of where the nerves come from, I think. I wrote the best story I could, and hope many people will enjoy it, but I always have to remember reading is subjective and everyone is different.
2. How long has Something in the Air taken to write, from the spark of an idea to having an actual book?
FOREVER. Haha, not really, but it sure felt like it. I began writing Something in the Air about two years ago and I got stuck, so I set it aside. I wrote several other books in the meantime, and then Rose started talking to me again. I pulled the story out at the end of 2014, and it after a lot of stops and starts, finally finished this past July. It was definitely a labour of love. There were so many times I wanted to give up because the words weren't coming, but I stuck it out and I'm really proud of the outcome.
3. You always have some pretty great designs for your books, where do your ideas come from for them?
Thank you! I usually have an idea in mind and then start searching for images on stock sites. Sometimes I find what I'm looking for and other times I have to go in a completely different direction because I simply can't find what I specifically want. I think each of my covers so far has been a good representation of the story itself and the characters.
4. Do you have any special plans to celebrate the release of Something in the Air?
In the weeks leading up to the release I'll have a pre-order incentive for readers: mini bookmarks and bottle cap charms for anyone who pre-orders the ebook and sends me a copy of their receipt. As for the actual release, I'm not quite sure yet. I'd like to do something totally different, so maybe a Facebook or Twitter party.
5. Do you have any ideas in mind for more books?
I have more ideas than I know what to do with! My next book is a YA featuring 17-year-old Ava Cartwright, who has appeared in a couple of my other books as a minor character. I started it three years ago during National Novel Writing Month and had a similar problem as I did with Something in the Air. I've already started rewriting it and I'm really excited to see where it goes.
6. How do you go about writing your books? Where do you write? Do you plot or go with the flow?
I write in my way-too-messy bedroom/office surrounded by books (and a million other things). I always do a bit of plotting, but mostly just go with it. Whenever I think I know what's going to happen, my characters seem to have something different in mind and the story takes on a life of its own, so I always try to remain open.
~Giveaway~
Angel Island swag pack, including postcards, mini bookmarks, and stickers. Open internationally!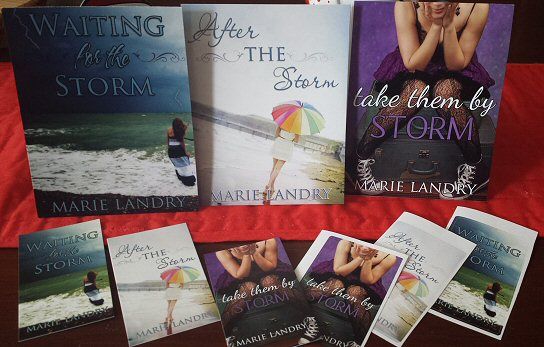 a Rafflecopter giveaway