Today I have a selection of February eBooks that are being publishes with Sainsbury's On Demand. To see what else is on offer, take a look at their website
Sainsbury's Entertainment on Demand
The High Mountains of Portugal by Yann Martel
Canongate Books
From the author of the international publishing sensation Life of Pi comes the story of a quest for a lost relic. The journey takes us from Africa in the 1600s through Portugal at the turn of the last century to contemporary North America. Showcasing Martel's trademark delight in the fundamental stories that unite us, The High Mountains of Portugal unfolds with a dazzling lightness of touch. With its intricately woven layers of meaning and all the pleasures and surprises of a good yarn, it is also a beautiful, tender, clear-eyed and heartfelt exploration of love, suffering, faith and evolution. By turns funny, tragic and sublime, The High Mountains of Portugal reminds us that it is our ability to weave remarkable stories out of our spiritual and philosophical concerns that makes us – and keeps us – human.
Sweetgirl by Travis Mulhauser
HarperCollins
Percy is used to her mama disappointing her. But this time her mama's been gone for nine days and she's been seen up at Shelton Potter's farmhouse. Which can only mean she's strung out on meth again, and who knows when she'll be back. A blizzard rolls in and Percy jumps in her pickup and sets off for the farmhouse. She finds Shelton and a woman passed out on the floor, sleeping off the latest binge. But no sign of her mama. Percy heads upstairs and finds a neglected baby girl, in urgent need of care and attention. Percy knows she has no choice. She has to take the baby and get her to a hospital as soon as she can. But the blizzard shows no sign of stopping and soon her pickup is snowed in. Now she's on foot and before long two-bit criminal Shelton wakes up and heads out with four of his associates, on the hunt for whoever has taken the baby . . .
Awful Auntie by David Walliams
HarperCollins
From number one bestselling author David Walliams comes another heartfelt but hilarious hoot of an adventure, with illustrations by Tony Ross.
Young Lady Stella Saxby, whose parents have been killed in a car crash, is now the sole heir to the grand Saxby Hall. But awful Aunt Alberta and her giant owl, Wagner, is on a mission to trick Stella out of her inheritance will stop at nothing to get Saxby Hall from her. Stella is determined to fight back and luckily she has a secret – and slightly spooky – weapon up her sleeve…
The Little Shop of Happy-Ever-After by Jenny Colgan
Little Brown
Given a back-room computer job when the beloved Birmingham library she works in turns into a downsized retail complex, Nina misses her old role terribly - dealing with people, greeting her regulars, making sure everyone gets the right books for their needs. Then a new business nobody else wants catches her eye: owning a tiny little bookshop bus up in the Scottish highlands. No computers. Shortages. Out all hours in the freezing cold; driving with a tiny stock of books... not to mention how the little community is going to take to her, particularly when she stalls the bus on a level crossing...
A Vintage Wedding by Katie Fforde
PRH
Weddings, romance, humour and happy-ever-after endings.
The deliciously romantic new novel from the No. 1 Sunday Times bestselling author of Recipe for Love, A French Affair and The Perfect Match.
In a small Cotswold country town, Beth, Lindy and Rachel are all looking for new beginnings. So they set up in business together, organising stylish and perfectly affordable vintage weddings. Soon they are busy arranging other people's Big Days. What none of them know is that their own romances lie waiting, just around the corner ...
Solitude Creek by Jeffery Deaver
Hodder & Stoughton
One mistake is all it takes.
Busted back to rookie after losing her gun in an interrogation gone bad, California Bureau of Investigation Agent Kathryn Dance finds herself making routine insurance checks after a roadhouse fire. But Dance is a highly trained expert in body language: her most deadly weapon is her instinct, and they can't take that away from her. And when the evidence at the club points to something more than a tragic accident, she isn't going to let protocol stop her doing everything in her power to take down the perp. Someone out there is using the panic of crowds to kill, and Dance must find out who, before he strikes again . . .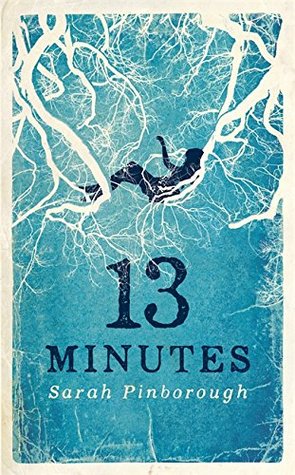 13 Minutes by Sarah Pinborough
Orion Publishing Group
I was dead for 13 minutes.
I don't remember how I ended up in the icy water but I do know this - it wasn't an accident and I wasn't suicidal.
They say you should keep your friends close and your enemies closer, but when you're a teenage girl, it's hard to tell them apart. My friends love me, I'm sure of it. But that doesn't mean they didn't try to kill me. Does it?
13 MINUTES by Sarah Pinborough is a gripping psychological thriller about people, fears, manuiplation and the power of the truth. A stunning read, it questions our relationships - and what we really know about the people closest to us . . .
Half a War (Shattered Sea, Book 3) by Joe Abercrombie
HarperCollins
WORDS ARE WEAPONS: Princess Skara has seen all she loved turned to ashes. She is left with only words. But the right words can be as deadly as any blade.
ONLY HALF A WAR IS FOUGHT WITH SWORDS: The deep-cunning Father Yarvi has walked a long road from crippled slave to king's minister. But now he faces the greatest army since the elves made war on God.
SOMETIMES ONE MUST FIGHT EVIL WITH EVIL: Some – like Thorn Bathu and the sword-bearer Raith – are born to fight, perhaps to die. Others – like Brand the smith and Koll the wood-carver – would rather stand in the light. But when Mother War spreads her iron wings, she may cast the whole Shattered Sea into darkness…
Broken Promise by Linwood Barclay
Orion Publishing Group
As a single parent with no job, forced to return to the small town of Promise Falls to live with his parents, David Harwood already had plenty to worry about. So when his mother asked him to look in on his cousin Marla, who was still not quite right after losing her baby, it was almost a relief to put the disaster his own life had become to one side. But when he gets to Marla's house he's disturbed to find a blood-covered Marla nursing a baby, a baby she claims was delivered to her 'by an angel.' And when, soon after, a woman's body is discovered across town, stabbed to death, with her own baby missing, it looks as if Marla has done something truly terrible. But while the evidence seems overwhelming, David just can't believe that his cousin is a murderer. With the police convinced they have an open and shut case, it's up to David to find out what really happened, but he soon discovers that the truth could be even more disturbing . . .
Cometh the Hour by Jeffrey Archer
Pan Macmillan
Cometh the Hour opens with the reading of a suicide note, which has devastating consequences for Harry and Sebastian Clifton, Giles Barrington and Lady Virginia. Giles must decide if he should try to rescue Karin, the woman he loves, from behind the Iron Curtain. But is Karin truly in love with him, or is she a spy? Lady Virginia can see no way out of her financial problems, until she is introduced to the hapless Cyrus T. Grant III, who's in England to see his horse run at Royal Ascot. Sebastian Clifton is now the Chief Executive of Farthings Bank, whose personal life is thrown into disarray when he falls for Priya, a beautiful Indian girl. Meanwhile, Sebastian's rivals are still plotting to take over Farthings. Harry Clifton remains determined to get Anatoly Babakov released from a gulag in Siberia, following the international success of his book, Uncle Joe. But then something unexpected happens that none of them could have anticipated.