Recent Reads is a way for me to round up books that I have read recently that are either too small to really give a detailed review of them, or are books read for fun with no review notes taken.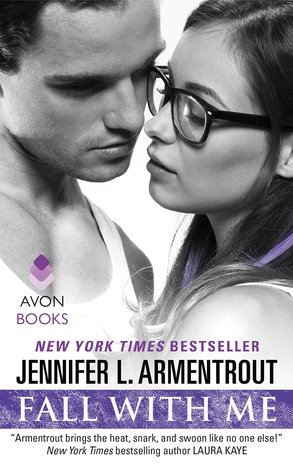 Title: Fall With Me
Author: J.Lynn
Publication Date: 31st March 2015

Tell Me About It
Eleven months ago, bartender and weird-shirt-wearing extraordinaire Roxy and Officer Reece Anders had a one night stand. Well, kind of. She's been in love with him since she was fifteen, and he wishes that night they shared never happened. She's sworn him off forever, but the past and future collide, forcing her to rely on the one man who broke her heart not once, but twice.

Her best friend since birth has been in a long-term care facility since he became a victim of a hate crime years ago, and the person who put him in there is out of prison and wanting to make amends with him and Roxy. She's not sure she has room for forgiveness in her and when she begins to receive frightening messages and is on the receiving end of escalating violence, she thinks she knows who is to blame. The man who already destroyed one life already.

But Reece isn't convinced. The threats are too personal, and even if Roxy doesn't believe him, he's not willing to let anyone hurt her. Including himself. He's already messed up more than once when it comes to Roxy and he's not going to let history repeat itself.
My Thoughts
I love this series so much, and looked forward to hearing Roxy and Reese's story. This book does not disappoint, with sparks flying between Roxy and Reese it was never going to be long before they got down and dirty. I liked the added mystery in the book and it kept me guessing over who it was, but not how it went down.
Seeing characters from the previous books and seeing how they are adjusting to life as a couple was the icing on the cake for me, and I have my suspicions about one duo. When the characters for the next book were introduced it took me a while to make the connection over who the female was, but after a little hint I quickly had it, and I have to say I am looking forward to seeing what they bring to the next story.
Title: Unrequited
Author: Jen Frederick
Publication Date: 13th April 2015

Tell Me About It
Winter Donovan loves two things: her sister and her sister's ex boyfriend. She's spent her whole life doing the right thing except that one time, that night when Finn O'Malley looked hollowed out by his father's death. Then she did something very wrong that felt terribly right.

Finn can't stop thinking about Winter and the night and he'll do anything to make her a permanent part of his life, even if it means separating Winter from the only family she has.

Their love was supposed to be unrequited but one grief stricken guy and one girl with too big of a heart results in disastrous consequences.
My Thoughts
I was late to pick this one up, not realising it was published. I love the series so much, and I went into this with high expectations, and whilst I did like this one, I didn't enjoy it as much as what I thought I would.
Ivy is a bitch, plain and simple, and she ruined it for Winter and Fin with her selfish actions. Fin took me a while to like, I can't really explain why as I don't remember him much from the previous book.
The story was good, as was the plot, I just didn't click with the characters like I did with the previous ones.
Title: When I'm Gone
Author: Abbi Glines
Publication Date: 7th April 2015

Tell Me About It
Love is a journey ~ Rosemary Beach is the destination...

Mase Colt-Manning has always preferred his Texan ranch life to his birthright as the son of a legendary rock star. In fact, he rarely visits his father in Rosemary Beach, especially if it means staying with his vile half-sister, Nan. But one such visit leads to a chance encounter with a young, gorgeous house maid who awakens him with her off-key but spirited imitation of a country music star…

Reese Ellis finally has her freedom. Escaping a lifetime of abuse from her parents and classmates she seizes the opportunity to work for some of the richest families in Rosemary Beach. But when an accident puts her job in jeopardy, a hot, half-naked stranger with a cowboy swagger comes to her rescue. At first she's intrigued - then afraid once he shows his own interest. Reese has never met a trustworthy man in her life. Will Mase be any different?
My Thoughts
This was another mixed one for me, I love this series, and I really love Reese and Mase, but I did feel like things were extremely rushed between this duo, especially how fast thier relationship went from strangers to more in a matter of days. I think Mase was amazing for what he does for Reese, but I also think he was slightly too possessive of her.
However I did enjoy getting to see some of the old gang again, and it reminds me of how much I miss this series. But I'm holding out until all books are published before I buy the paperbacks again.