Waiting On Wednesday is a weekly event, hosted at Breaking the Spine.
It is a way to spotlight upcoming releases that I'm eagerly anticipating, or books that are already released that I still need to own.
This Wednesday I am waiting on...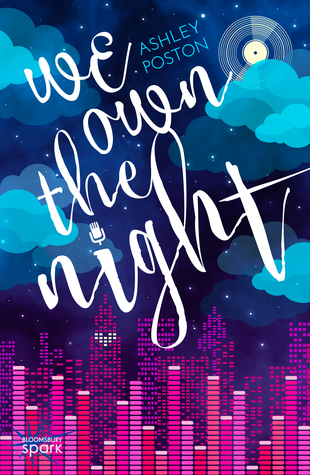 Title:
We Own the Night
Author:
Ashley Poston
Publisher:
Bloomsbury Spark
Expected Publication Date:
4th August 2015
Synopsis from goodreads


"Happy midnight, my fellow Niteowls..."

As a candy store employee by day, and mysterious deejay "Niteowl" by night, eighteen-year-old Ingrid North is stuck between rock 'n roll and a hard place. She can't wait to get out of her tiny hometown of Steadfast, Nebraska (population three hundred and forty-seven) to chase her dreams, but small-town troubles keep getting in the way. She can't abandon her grandmother with Alzheimer's, or her best friend Micah--who she may or may not be in love with.

But for one hour each Saturday, she escapes all of that. On air, she isn't timid, ugly-sweater-wearing Ingrid North. She's the funny and daring Niteowl. Every boy's manic pixie dream girl. Fearless. And there is one caller in particular-- Dark and Brooding--whose raspy laugh and snarky humor is just sexy enough to take her mind off Micah. Not that she's in love with Micah or anything. Cause she's not.

As her grandmother slips further away and Micah begins dating a Mean-Girls-worthy nightmare, Ingrid runs to the mysterious Dark and Brooding as a disembodied voice to lean on, only to fall down a rabbit hole of punk rockstars, tabloid headlines, and kisses that taste like bubble tea. But the real-life man behind the voice could be surprising in all the right, and wrong, ways.

And she just might find that her real life begins when Niteowl goes off the air.
Why I'm Waiting on Wednesday for this book
I really enjoyed the previous book in this series, Radio Hearts, and I can't wait to read another book by Ashley. The cover is pretty awesome too :)
What are YOU waiting on this Wednesday?