Cover characteristic is a meme hosted by Sugar & Snark. It came about when Sugar was wondering which cover to use for her #70 Cover of the Week post. Sugar kept on thinking of more than one, and they all seemed to have a theme/characteristic. So she decided to switch things up a bit!
To find out more and participate check out their posts
here

This weeks theme is The back of people.

I really enjoyed this weeks theme. I knew which covers I was going to pick from, I just didn't realise how hard it would be to whittle it down to a few.
5.
The Witch With No Name by Kim Harrison
4.
The Boy Most Likely To by Huntley Fitzpatrick
3.
Perijee and Me by Ross Montgomery
2.
The Trick to Landing by Jenny Kaczorowski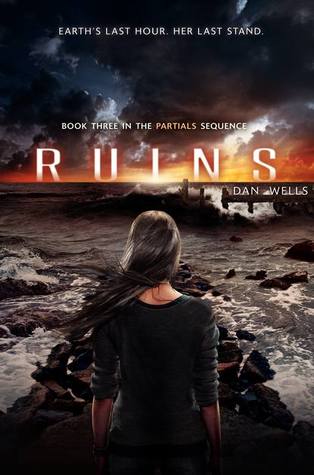 Ruins by Dan Wells
This week was a tough choice for me, a lot of the book I have picked are ones I really like the cover for. Perijee and Me is such a cute cover, you cant help but fall in love with it. I love how romantic the cover for The Boy Most Likely To is, and the sunset for The Trick to Landing is amazing. But my favourite has to be Ruins.
I have loved this series from the very first book, and I have liked seeing how the covers have changed for each book. The cover for Ruins is my cover, I love how dark and post apocalyptic it feels, I love how it reflects the story, but also stays true to the character.